Sorry, this product is not available in France.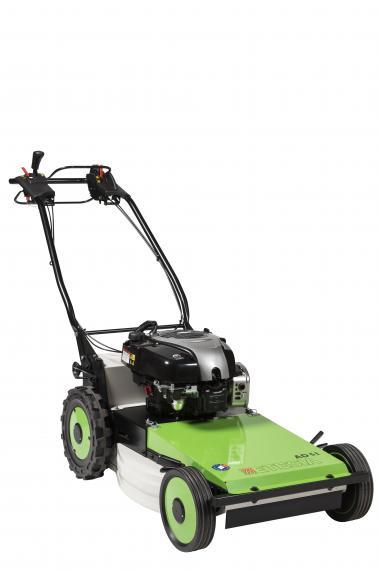 Brushcutters Brushcutter Attila 51
Attila 51 is a robust brushcutter, safe and particularly efficient. Comfortable in all situation, even in the most difficult terrain.
Find the nearest retailer
Characteristics
Performance
Slopes
Integrated differential lock gives a good grip on uneven ground, especially on slopes < 20° or 38%. Over-sized rear wheels with semi agricultural tyres, give a good grip.
Comfort
Specifications
| Mower | |
| --- | --- |
| Theoretical output (m²/h) | 2800 m²/h |
| Number of blades | 1 |
| Cutting width (cm) | 51 cm |
| Cutting deck | Tubular steel |
| Rotation direction | Clockwise |
| Blade protection | Yes |
| Blade clutch | Mechanic |
| Cutting height (mm) | from 50 to 110 mm |
| Measurement and weight | |
| --- | --- |
| Weight | 83 Kg |
| Height | 110 cm |
| Width | 57.5 cm |
| Length | 181 cm |
| Engine | |
| --- | --- |
| Amount of cylinders | 1 |
| Capacity (cm³) | 161 cm³ |
| Nominal engine power | 2.7 kW (3,5 HP) |
| Fuel tank capacity (L) | 2.5 L |
| Cylinders/cooling | Air |
| Fuel | Unleaded fuel 95/98 |
| Starter | Electronic |
| Engine type | Briggs & Stratton 750 Series |
| Wheel transmission | |
| --- | --- |
| Transmission type | Hydraulic |
| Forward speed (km/h) | 5.5 km/h |
| Reverse speed (km/h) | 4 km/h |
| Number of driving wheels | 2 |
| Working angle % | 38% |
| Acoustic pressure | 81 dB(A) |
| GPS/GPRS | - |