Sorry, this product is not available in France.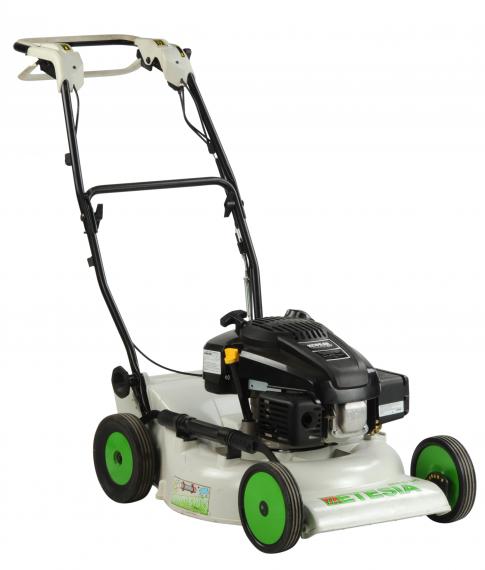 Lawnmowers Efficient even in long grass
The powerful, high-performance mower Biocut53 ensures a quick, clean, environmentally-friendly cut. The mulching cover can be removed to convert the Biocut53 into a direct rear ejection mower, which is highly efficient in tall and wet grass.
Find the nearest retailer
Characteristics
Performance
Comfort
Controls
The specially shaped handlebar is designed to protect the hands. All controls including the starter are incorporated into the handlebars for safety and operator comfort.
Fully adjustable
The Biocut53's handlebar is fully adjustable and can be folded very easily for transport and storage.
Cutting height
The centralised system provides any cutting heights between 25 mm to 88 mm at the turn of a handle.
Specifications
| Mower | |
| --- | --- |
| Theoretical output | 2430 m²/h |
| Number of blades | 1 |
| Cutting width | 53 cm |
| Cutting deck | Casted aluminium |
| Rotation direction | Clockwise |
| Cutting height | from 25 to 88 mm |
| Cutting system | Biocut |
| Measurement and weight | |
| --- | --- |
| Weight | 43 Kg |
| Height | 98 cm |
| Width | 56 cm |
| Length | 149 cm |
| Engine | |
| --- | --- |
| Amount of cylinders | 1 |
| Capacity (cm³) | 173 cm³ |
| Nominal engine power | 3.1 kW / 4.2 HP |
| Maximum engine power | 3,6 kW / 5,2 HP |
| Fuel tank capacity (L) | 1.4 L |
| Cooling system | Air-cooled |
| Fuel | Gas |
| Starter | Electronic |
| Ignition | With automatic return |
| Engine type | Kohler XT Series 7.75 |
| Wheel transmission | |
| --- | --- |
| Transmission type | Mechanic |
| Forward speed (km/h) | 2.9 to 4.6 Km/h |
| Number of driving wheels | 2 |
| Acoustic pressure | 85 dB(A) |
| Forward transmission | Self-propelled |
| GPS / GPRS | - |