Sorry, this product is not available in France.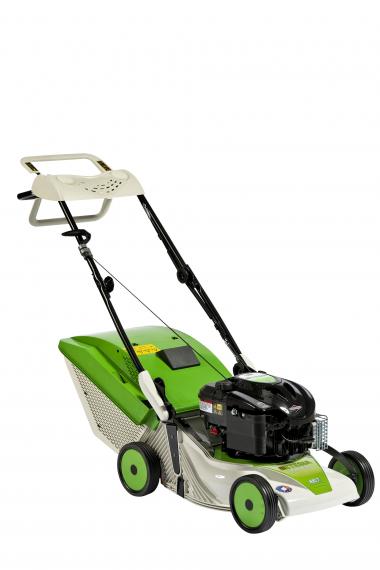 Lawnmowers New duocut 41 family of three-in-one mowers
The new Duocut 41 mowers are extremely versatile, and are capable of mowing with or without collection in all conditions, or allowing high-quality mulching. Ideal for small gardens.
+ The NBCT is a self-propelled version.
Find the nearest retailer
Characteristics
Performance
Mulching-lawnmower, 41 cm cutting width
Comfort
Robustness
Engine
Cutting deck
Guarantees
Engine
Briggs and Stratton engine, Ready Start  XNP55 650 Series 190 cc, 5 HP. Highly powerfull and durable.
Cutting deck
Deck made of Xenoy, a light and highly impact-resistant material compared to ABS standard.
Specifications
Mower with a 3-year warranty and deck with a 10-year warranty for private use.
| Mower | |
| --- | --- |
| Theoretical output (m²/h) | 1390 m²/h |
| Number of blades | 1 |
| Cutting width (cm) | 41 cm |
| Cutting deck | Xenoy |
| Cutting height | from 28 to 85 mm |
| Cutting system | Duocut |
| Grassbox | |
| --- | --- |
| Grassbox capacity (L) | 50 Liter |
| Grassbox emptying | Manual |
| Measurement and weight | |
| --- | --- |
| Weight | 34 Kg |
| Height | 106 cm |
| Width | 48 cm |
| Length | 142 cm |
| Engine | |
| --- | --- |
| Amount of cylinders | 1 |
| Capacity (cm³) | 190 cm³ |
| Nominal engine power | 2,5 kW |
| Fuel tank capacity (L) | 1 L |
| Cooling system | Air-cooled |
| Fuel | Fuel |
| Starter | Electronic |
| Ignition | Manual |
| Engine type | Briggs&Stratton 650E series XNP55 |
| Wheel transmission | |
| --- | --- |
| Transmission type | Mechanic |
| Forward speed (km/h) | 3.4 Km/h |
| Number of driving wheels | 2 |
| Working angle % | 18 |
| Acoustic pressure | 83 dB(A) |
| Forward transmission | Towed |
| GPS / GPRS | - |