Sorry, this product is not available in France.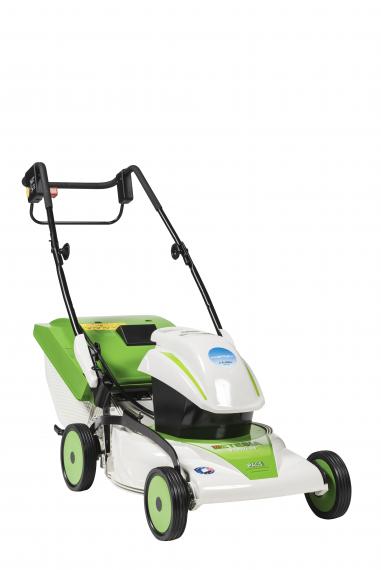 Lawnmowers Duocut 46 N-ERGY PACS
The new battery-operated Duocut 46 N-ERGY walk behind mower gives professional users a means for efficient, environmentally friendly and profitable mowing.
This is a high-quality multifunctional mower which is environmentally responsible, compact, rugged and efficient. It can easily handle collection, mulching and mowing.
Find the nearest retailer
Characteristics
Performance
Comfort
Accessories
Etesia développe une large gamme d'accessoires pour Duocut 46 N-ERGY-PACS
Spare parts
Etesia dispose de certaines pièces détachés pour Duocut 46 N-ERGY-PACS
Specifications
It provides the benefits of electric mowers without their drawbacks: it operates in silence.
| Mower | |
| --- | --- |
| Theoretical output (m²/h) | 1380 |
| Cutting width (cm)) | 46 |
| Cutting height | from 38 to 88 mm |
| Cutting system | Duocut |
| Emptying systems | |
| --- | --- |
| Grassbox capacity (L) | 56 |
| Grassbox emptying | Manual |
| Measurement and weight | |
| --- | --- |
| weight (kg) | 37 |
| Height (cm) | 153 |
| Width (cm) | 52 |
| Length (cm) | 100 |
| Motor | |
| --- | --- |
| Engine type | Electric 36 VDC Brushless |
| Battery | Rechargeable Li-Ion N-ERGY accumulator |
| Wheel transmission | |
| --- | --- |
| Transmission type | To push |
| Forward speed (km/h) | 3.3 |
| Acoustic pressure | 84 |
| Forward transmission | To push |
| GPS/GPRS | No |