Sorry, this product is not available in France.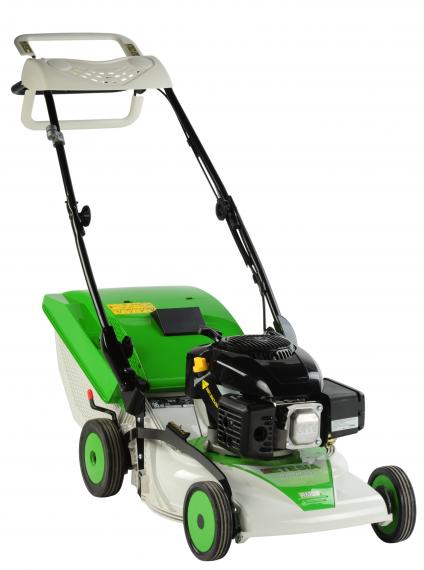 Lawnmowers New duocut 46 family of three-in-one mowers
The new duocut 46 mowers are extremely versatile, and are capable of mowing with or without collection in all conditions, or allowing high-quality mulching. And they do all that with no need for an accessory!
+ The RMCB is a self-propelled model
Find the nearest retailer
Characteristics
Performance
Mulching? Conventional mowing with or without collection? It's up to you
Comfort
Height-adjustable handlebar 
3 positions and folded position. Recessed handlebar shape to keep your hands safe while mowing close to an obstacle (wall, tree etc.). Comfortable coating on handlebar, and effortless control maintenance.
Cutting height
Centralised adjustment of the cutting height with 7 positions from 28 to 88 mm. Digital cutting height indicator.
Duocut mowers think of their users
With low (86 dB(A) acoustic pressure at the driving seat, and also low acoustic power (96 dB(A) guaranteed) and handlebar vibrations (4.6 m/s² (ahw)).
Specifications
3 years warranty of mower and 10 years warranty on cutting deck in private use.
| Mower | |
| --- | --- |
| Theoretical output (m²/h) | 1650 m²/h |
| Number of blades | 1 |
| Cutting width (cm) | 46 cm |
| Cutting deck | Xenoy |
| Blade protection | Coupling washer |
| Cutting height | from 28 to 88 mm |
| Cutting system | Duocut |
| Emptying systems | |
| --- | --- |
| Grassbox capacity (L) | 56 L |
| Grassbox emptying | Manual |
| Measurement and weight | |
| --- | --- |
| Weight (kg) | 40 Kg |
| Height (cm) | 106 cm |
| Width (cm) | 52 cm |
| Length | 154 cm |
| Motor | |
| --- | --- |
| Amount of cylinders | 1 |
| Capacity (cm³) | 149 cm³ |
| Nominal engine power | 2.5 kW |
| Fuel tank capacity (L) | 1.1 L |
| Cooling system | Air-cooled |
| Fuel | Gas |
| Starter | Electronic |
| Engine type | Kohler XT Series 6.75 |
| Wheel transmission | |
| --- | --- |
| Transmission type | 2 |
| Forward speed (km/h) | 3.6 Km/h |
| Number of wheel drive | 2 |
| Working angle % | 18% |
| Acoustic pressure | 83 dB(A) |
| Forward transmission | Disc |
| GPS / GPRS | - |