Sorry, this product is not available in France.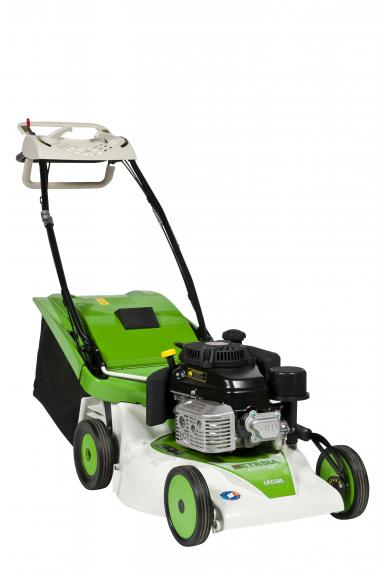 Lawnmowers New Duocut 53, a three-in-one mower
The new Duocut 53 lawnmower is the big sister of the DUOCUT family: wider cutting width, more powerful and more robust. Ideal for large garden.

Find the nearest retailer
Characteristics
Performance
Comfort
Using comfort
Duocut mowers think of their users, with low (88 dB(A)) acoustic pressure at the driving seat, and also low acoustic power (96 dB(A) guaranteed) and handlebar vibrations (4 m/s² (ahw)).
Cutting height
Centralized cutting height infinitely adjustable from 25 to 85 mm. Cutting height indicator.
Height-adjustable handlebar
3 positions and folded position. Recessed handlebar shape to keep your hands safe while mowing close to an obstacle (wall, tree etc).

Accessories
Etesia développe une large gamme d'accessoires pour Duocut 53 LKCGM
Spare parts
Etesia dispose de certaines pièces détachés pour Duocut 53 LKCGM
Specifications
Mower with a 3-year Guarantee and a deck with a 10-year Guarantee in private use.
| Mowing system | |
| --- | --- |
| Theoretical output | 2385 sqm/h |
| Number of blades | 1 |
| Cutting width (cm) | 53 cm |
| Mowing deck | Duocut |
| Rotation direction | Anti-Clockwise |
| Blade protection | Shear bolts |
| Blade clutch | Mechanic |
| Cutting height | From 25 to 85 mm |
| Cutting system | Duocut |
| Grassbox | |
| --- | --- |
| Grassbox capacity (L) | 80 L |
| Grassbox emptying | Manual |
| Grassbox structure | Canvas |
| Measurement and weight | |
| --- | --- |
| Weight | 64 Kg |
| Height | 100 cm |
| Width | 56 cm |
| Lenght | 171 cm |
| Engine | |
| --- | --- |
| Number of cylinders | 1 |
| Capacity (cm³) | 179 cm³ |
| Nominal engine power | 4,4 kW |
| Fuel tank capacity (L) | 4 L |
| Cooling system | Air-cooled |
| Fuel | 95/98 Gas |
| Starter | Electronic |
| Ignition | With automatic return |
| Engine type | Kawasaki FJ180V KAÏ |
| Wheel transmission | |
| --- | --- |
| Transmission type | Mechanic |
| Forward speed (km/h) | From 2,7 to 4,5 Km/h |
| Number of driving wheels | 2 |
| Turning radius | 25 |
| Vertical drop | 25% |
| Acoustic pressure | 88 dB(A) |
| Frame | Cast aluminium |
| Forward transmission | Mechanic |
| GPS / GPRS | - |