Sorry, this product is not available in France.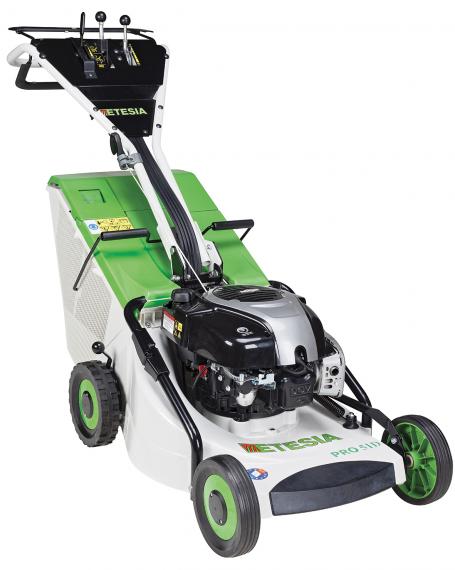 Lawnmowers
Powerful, compact, easy to use, safe, ETESIA's pro51 is ideal for a wide range of grass conditions.
Find the nearest retailer
Characteristics
Performance
Collecting in every condition
Theoretical output up to 2240 m²/h. Possible use on sloping grounds until 20°. The internal aerodynamism of the cutting deck and the wide ejection channel  eliminate any risk of jams.
Drive
The drive is made on the back wheels to guarantee a perfect adhesion on slope, through a reducer greased for life. Back wheels with semi-agrarian profile.
Comfort
Filling indicator
The grassbox with a 72 liter volume drains away easily by shift and cleans  easily with water, it is equipped with a filling indicator STOP sign. Centralized cutting heights regulation from 33 to 88 mm.
Robustness
Cutting deck
Engine
Cutting heigth
Accessories
Etesia développe une large gamme d'accessoires pour Pro 51 D
Spare parts
Etesia dispose de certaines pièces détachés pour Pro 51 D
Specifications
| Mower | |
| --- | --- |
| Theoretical output (m²/h) | 2240 m²/h |
| Number of blades | 1 |
| Cutting width (cm) | 51 cm |
| Cutting deck | Casted aluminium |
| Rotation direction | Clockwise |
| Blade protection | Belt |
| Blade clutch | electromagnetic |
| Cutting height | From 33 to 88 mm |
| Emptying system | |
| --- | --- |
| Grassbox capacity (L) | 72 L |
| Grassbox emptying | Manual |
| Grassbox structure | Strengthened polypropylen |
| Measurement and weight | |
| --- | --- |
| Weight | 58 Kg |
| Height | 110 cm |
| Width | 55 cm |
| Lenght | 145 cm |
| Engine | |
| --- | --- |
| Number of cylinders | 1 |
| Capacity (cm³) | 161 cm³ |
| Nominal engine power | 2.6 kW / 3.5 HP |
| Maximum engine power | 4.4 kW / 6 HP |
| Fuel tank capacity (L) | 1.8 L |
| Cooling system | Air-cooled |
| Fuel | Gasoline |
| Starter | Electric |
| Ignition | With automatic return |
| Engine type | B&S 750 Series DOV |
| Wheel transmission | |
| --- | --- |
| Transmission type | Mechanic |
| Forward speed (km/h) | 3.2 to 4.4 Km/h |
| Number of driving wheels | 2 |
| Acoustic pressure | 85 d(B)A |
| Forward transmission | Speed variator |
| GPS / GPRS | - |