Sorry, this product is not available in France.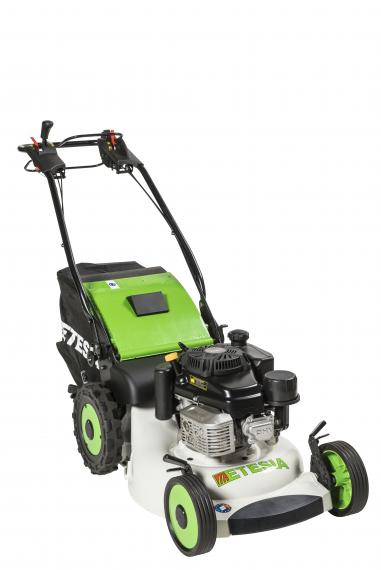 Lawnmowers The Green Revolution
The unique transmission with 2 hydraulic engines offers you great handling and slope performance unrivalled in its category. The innovative mowing deck and blade design on the Pro53 combines professional quality cutting, collecting and mulching in a single machine.
+ Kawasaki engine
+ Differential lock 

Find the nearest retailer
Characteristics
Performance
Comfort
Controls
The specially shaped handlebar and speed control have been designed with safety and ergonomics in mind. The handlebars are easy to fold down for transport and storage purposes and their height can be adjusted to 3 positions.
Speeds
The speed selector means the user can adapt the mower speed easily and gradually according to the mowing conditions.
3 gradual forward speeds
0 to 3 km/h, 0 to 4 km/h, o to 5.5 km/h. One gradual reverse speed from 0 to 3 km/h. Easy change from backward to forward speed.
Robustness
Cutting deck
Hydraulic power
Cutting deck
The pro53 cast aluminium mowing deck is rustproof and particularly resistant to damage. It is equipped with a removable rubber bumper at the front. The Kawasaki engine turns this self-propelled mower into the most powerful machine in its category.
Hydraulic power
Transmission consist of 2 hydraulic motors fitted onto the rear wheels and connected to a hydraulic pump. It accelerates gradually with 3 forward speeds and 1 reverse with automatic transition from reverse to forward motion.
Specifications
Collect, mulch or mow and drop.
| Mower | |
| --- | --- |
| Theoretical output (m²/h) | 2910 sqm/h |
| Number of blades | 1 |
| Cutting width (cm) | 53 cm |
| Cutting deck | Casted aluminium |
| Rotation direction | Clockwise |
| Blade protection | Belt |
| Blade clutch | Yes |
| Cutting height | from 25 to 85 mm |
| Emptying systems | |
| --- | --- |
| Grassbox capacity (L) | 85 L |
| Grassbox emptying | Manual |
| Measurement and weight | |
| --- | --- |
| Weight | 77,5 kg |
| Height | 107 cm |
| Width | 57.5 cm |
| Length | 170 cm |
| Engine | |
| --- | --- |
| Capacity (cm³) | 179 cm³ |
| Nominal engine power | 2,9 kW / 3,9 HP |
| Maximum engine power | 4.4 kW / 6 HP |
| Fuel tank capacity (L) | 2.5 L |
| Cooling system | Air-cooled |
| Fuel | Gas |
| Starter | Electronic |
| Ignition | Automatic recaller |
| Engine type | Kawasaki FJ180V |
| Wheel transmission | |
| --- | --- |
| Transmission type | Hydraulic |
| Forward speed (km/h) | 5,5 Km/h |
| Number of driving wheels | 2 |
| Acoustic pressure | 87 d(B)A |
| Forward transmission | Self-propelled |
| GPS / GPRS | - |