Collection Innovation
A major innovation : the ETESIA collection system
An exclusive and revolutionnary concept : mowing and collection in all conditions.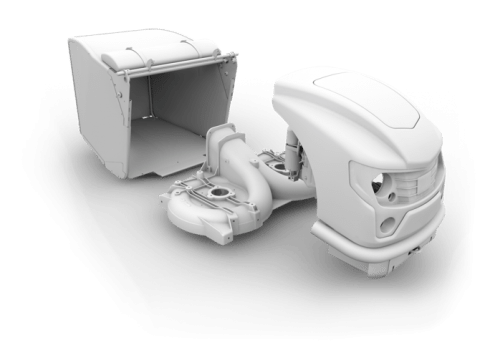 A major innovation - the ETESIA collection system
One exclusive, and revolutionary concept : mowing and collection in all conditions.
The ETESIA concept eliminates all risks of clogging, offering the first ride-on mower with direct rear ejection and integrated collection. Today, ETESIA is the only manufacturer of ride-on mowers to  develop the cutting system first and then the tractor afterwards.
Unique cutting quality. Indexed at 90°, the two counter-rotating blades overlap to prevent any central mark. The two blades generate a powerful blowing effect and push the grass through a  volute-shaped housing with an increasing cross section into the grassbox.
The collection system mounted directly at the outlet of the cutter housing guarantees perfect collection with no risk of clogging - there are no obstacles between the cutter housing and the grassbox. The result  is that our machines can mow and collect the grass in conditions - long, wet grass - where most competitors are  just not up to the task.