Environmental Innovation
Bio concept : Environmental protection and a commitment to sustainable development in general have always been among our key concerns, even before they became the latest buzzwords. That is why at ETESIA, we have developed our own philosophy called Bio Concept.​
Two major areas are concerned
Our production Plant
100 % of our waste undergoes selective sorting, 0% of it internally, with the use of separate skips for steel, aluminium, cardboard, wood, accumulators and batteries.
Manufacturing in Europe has positive aspects for a sustainable development

Environmental impact related to transport is considerably lower than for a machine produced in Asia or in the USA as it is the case for most of our competitors.
Positive social and economical impact thanks to the safeguarding of employment and industrial know-how in France.

A GHG Assessment is underway (Green House Gas). This assessment takes into account energy consumptions of the production plant, the refrigerants and the transportation modes. It helps the company which produces it to identify where, when and how it will be able to save energy and to pollute less.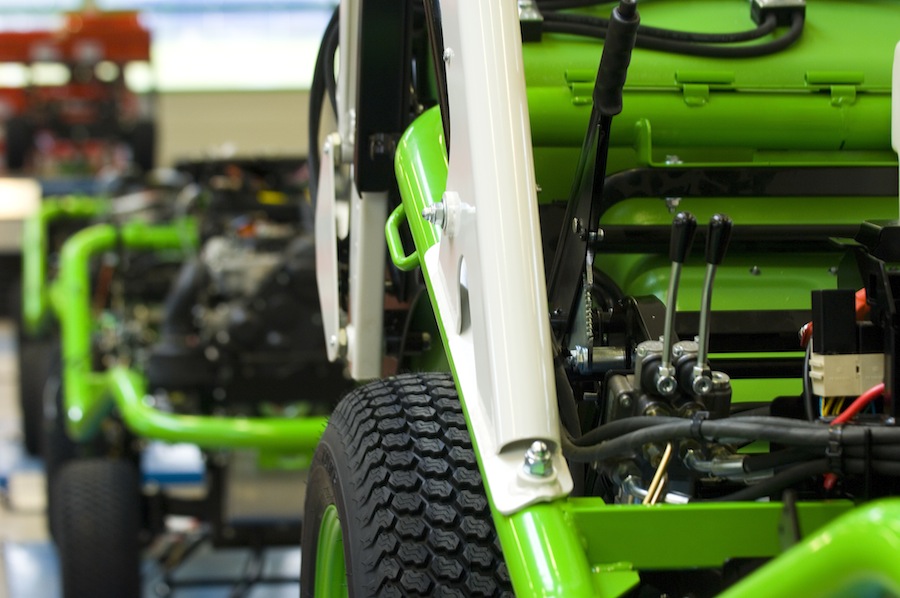 Our machines
Record longevity of ETESIA : durable machines. For example, after 20 years of good and faithful services, some Hydro 100 machines are still in operation. 
A range of mowers adapted to the differentiated management requirements of today's customers. The Hydro 124D machine is the perfect illustration of the versatility of the ETESIA Ride-on mowers.
Development of new environmentally friendly engines.
Learn more about our customers requirements to help us make the right choices
Does this approach correspond to an expectation?
A Survey from 300 people responsible for the green areas of French cities listing more than 5000 inhabitants:
91 % express their concern for:
the integration of sustainable development into their policy of:
• Biodiversity
• Water protection
• Reduction of noise
• Reduction of CO2 emissions
• The practice of the differential management
Study realized by AGRINOVA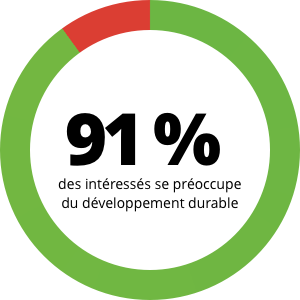 On which phase has ETESIA to act to reduce its environmental impact?
To answer this question, we carried out a study of the environmental impact of our 80cm ride-on mower Family by Bureau Veritas CODDE (Life Cycle Assessment and Ecodesign) http://www.codde.fr/
Distribution of the environmental impacts of the thermal lawnmower on its life cycle
MANUFACTURE phase 9%, Average
COMMERCIAL phase 1%, Average
USEAGE phase 85%, Average (incl. 90% of fuel consumption)
END OF LIFE phase 5%, Average
It clearly shows that it is the usage phase (85%) which has the biggest impact on the environment and more particularly the fuel consumption (90%). 
This is why; the efforts of our engineers were dedicated towards our clean engine options for ride-on mowers.
The Biomass fuel range
Since 2007, we have had a biomass fuel version for each gas oil machine, so they can operate with  B30 fuel (gas oil which contents 30 % ester of biomass).
ETESIA is member of Diester Partnership  : which  is  developing the Diester community in France.
B30 is a fuel whose energy source is drawn from the middle of the plants. It's composed of 30% of EMHV and is intended for diesel vehicles. The EMHV (Methyl Vegetable oil Esters) are esters resulting from plants such as Soya bean, Rape-seed and sunflower. Incorporated in diesel fuel, the EMHV, or vegetable oil esters, make it possible to produce agro-fuels and contribute to decrease the emissions of CO2, black smokes and vehicles soot.
The manufacturing process is easy: vegetable oil is mainly produced from sunflower- or Rape seed. Once purified and mixed with methanol, it can the be added in with diesel fuel.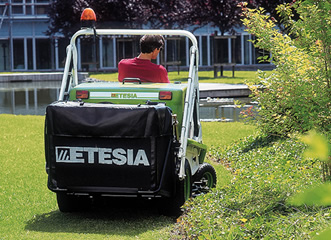 LPG Range
2008 : Launch of the first European LPG mower: hydro 80 LPG
+Ecology
Better protection of the environment through the reduction of pollutant emissions: 20% of the CO emissions, 21% of the CO2 emissions, 25% of hydrocarbons emissions
+Economy
Almost tripled the mowing capacity: between 10 and 12 hours of mowing against 4 to 6 h for petrol machines.
A cost of hourly fuel consumption divided by 2 
The electrical range
100 % Electric ride-on mower
2008 : ETESIA continues its development of machines which favour the environment with the latest « concept ride-on »:  The first 100% fully electric ride-on mower powered by battery, 
2010 : the "mower concept" has become a real professional 100% electric machine: bahia M2E
2012 : commercialisation of the Electric Bahia 
+Ecology
Zero emission of carbon monoxide (CO), oxides of nitrogen (NOx) of carbon dioxide (CO2)

Zero release of hydrocarbon (NC), smoke and particle (PM)

 
+Silent
Almost silent in forward motion and traction mode
Early morning Snow clearance  in complete silence
Quieter in mowing mode than a petrol model
+Economy
Hourly consumption cost less than 0,50p

Reduced maintenance costs: no belt, filter or oil engine

 
+High-performance​
Cutting and bagging equivalent to the Petrol model 
Similar  operator comfort
Just as compact as the petrol engine versions 
Mowing capacity of approximately 2 500 m2 : 2 hours + 1,5 hours with Battery trailer = 3,5 hours 

Capacity when used as a transporter or mobile generator: 8 hours
Robot mowers
The revolution of robots as ETESIA Lawn
With its Etmowers, Robot mowers family ETESIA revolutionizes once again the universe of professional green spaces.
Environmentally friendly
Reduction of 90% CO2 1 ton CO2 /ha per year
Silent
Odor free / smell free
Less Fertilizer
No rubbish
Economy
Three times less energy consumption in £
No rubbish to eliminate
After one year, 20% economy of fertilizer 
Gain of time
Minimal human intervention
Free time for other work
The ETESIA's BIOCONCEPT rewarded
Eco-trophies of the framework of life 2010
Coup de coeur of the jury for the electrical mower. Bronze trophy for «  Bioconcept Eco Management »
The 2010 Communication Award 
Winner (5th) in the category "best action of environmental communication. 
Trophy Cape ' tronic 2011
Designated in the eco-innovation category 
Top Innovation "Salon Vert" 2012 
The M2E distinguished in the Construction and maintenance of green spaces category
But the best reward, it is the confidence of the users. For example, the football club of Forest Green Rovers in England is an ETESIA machine owner. The club possesses a bio diesel Version of the Hydro 124D (equipped with a scarifier), an electric bahia M2E and a Robot mower ETm 105. 
ETESIA's vision of its future market is one where business and environmental protection are ultimately reconciled. 
ETESIA's commitment is taking concrete form with its new green engines and also through the versatility of the range, making it possible to apply several mowing techniques and thus enabling differential management.