Sorry, this product is not available in France.
Attila 88
User's speech:"Etesia brushcutters are the only ones on the market designed to cut rough leaving a good finish, and that is a big bonus to many of our clients, and of course to us. They are highly robust and don't let anybody down." Ritain Patel, Acacia Groundcare Equipment Rental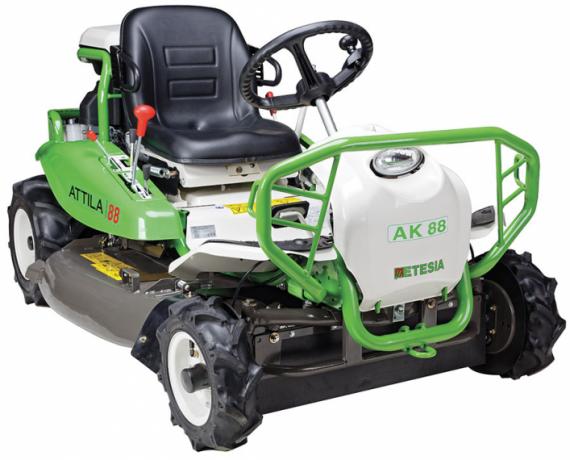 Brushcutters Attila 88 brushcutter
With its extremely low centre of gravity, manoeuvrability and powerful 11,9 kW engine, the Attila 88 is ideal for slopes, woodland rides and infrequently cut areas with dense vegetation and brushwood.

Find the nearest retailer
Characteristics
Performance
Comfort
Robustness
Engine
Powered by a Kawasaki FS481V, 11,9 kW engine, Attila 88 is fitted with with differential lock for adverse conditions, adjustable forward speed from 0 to 10 km/h and adjustable reverse speed from 0 to 7 km/h. Agricultural tyres.
Traction
The hydromechanical transmission on the Attila 88 improves long life. It combines the robustness of a mechanical drive to the flexibility of a hydrostatic transmission.
Specifications
The new cutting deck is more powerful and offers the highest cutting quality.
| Mower | |
| --- | --- |
| Surface non tondue | 1.9 m² |
| Theoretical output (m²/h) | 8800 m²/h |
| Number of blades | 1 |
| Cutting width (cm) | 88 cm |
| Cutting deck | 2 mm Steel |
| Mount type | suspended cutting deck |
| Rotation direction | Anti-clock |
| Blade protection | Yes |
| Blade clutch | Mechanical |
| Cutting height | from 50 to 110 mm + 1 transport position |
| Measurement and weight | |
| --- | --- |
| Weight | 275 Kg |
| Height | 100 cm |
| Width | 98 cm |
| Length | 198 cm |
| Rollbar MASAK | Option |
| Engine | |
| --- | --- |
| Amount of cylinders | 2 |
| Capacity (cm³) | 603 cm³ |
| Nominal engine power | 11,9 kW (16 HP) |
| Fuel tank capacity (L) | 9 L |
| Oil capacity (L) | 1.7 L |
| Cooling system | Air cooled |
| Fuel | Unleaded fuel 95/98 |
| Starter | Electric 12 V - 3A with regulator |
| Engine type | Kawasaki FS481V |
| Battery | 12 V - 30 A |
| Wheel transmission | |
| --- | --- |
| Transmission type | Hydrostatic |
| Forward speed (km/h) | 10 |
| Reverse speed (km/h) | 7 |
| Oil capacity (L) | 1.7 L |
| Number of wheel drive | 2 |
| Turning radius (m) | 1 |
| Working angle % | 30% |
| Acoustic pressure | 97.7 dB(A) |
| Frame | Tubular mecanic welded |
| Direction | Mecanic |
| Tyres | FR: 6,5x7.0 / BACK: 16x7.0-8 |
| Braking | Dynamic brake - Mecanic parking brake |
| Forward transmission | Hydromechanic |
| GPS/GPRS | - |