Sorry, this product is not available in France.
Attila 98X
User's speech:"The past year, with the poor weather, we had some complaints at the beginning of the year with the length of the grass as our other mowers couldn't get onto the grass to cut it. We have a policy here to mulch, rather than cut and collect, so we just took the Etesia AK98X out to cut all the areas that the other mowers couldn't – it does an excellent job" Ritain Patel, Acacia Groundcare Equipment Rental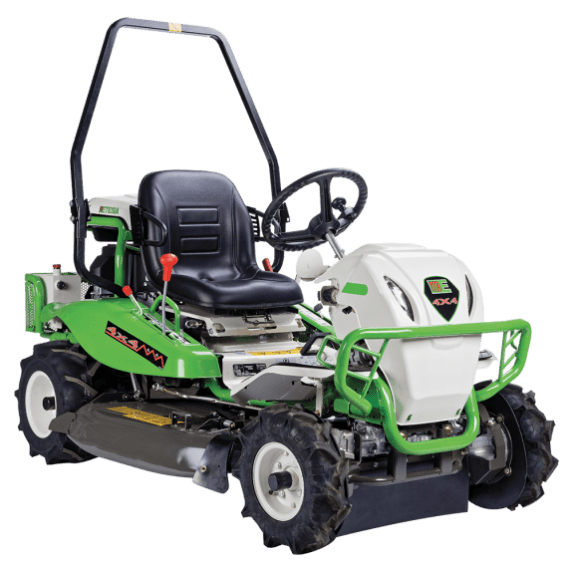 Brushcutters Power and comfort for extreme brushcutting in 4x4 version.
Way ahead! ETESIA's ride-on brushcutters Attila 98X is reliable, efficient, comfortable and safe. Their output, their 4 wheel drive and performance make them a reference in professional use.
(*) optional brush bar

Find the nearest retailer
Characteristics
Performance
Brushcutting
Swing or fix tip blades. Cutting width 98 cm. High work rate (up to 9 800 m²/h). Can be used on slopes up to 30%.
Extreme brushcutting
Swing or fix tip blades and the 98 cm cutting width enable a high preformant brush cutting. Can cut through 4.5 cm diameter.
All terrain
Low centre of gravity plus heavy-tread tyres provide greater stability on slopes up to 30%.
Comfort
Safety
It is fitted with a parking brake, mechanical blade clutch, operator presence safety switches, front and side mud-flap protection, and a safety lock and overflow on the large-capacity petrol tank.
Robustness
Frame
ETESIA's Attila 98X has a welded tubular chassis for extra strength and long life. Their heavy duty steel deck has side and rear discharge to ensure speedy and effective site clearance.
Engine
The powerful engine of the Attila AK98X ( Kawasaki FS691V 17,8 kW ) provides outstanding performance.
Specifications
Its powerful engine and its 4 drive wheels offer a perfect brushing even in bad conditions,and a very good traction on slopes.
| Mower | |
| --- | --- |
| Theoretical output (m²/h) | 9800 m²/h |
| Number of blades | 1 |
| Cutting width (cm) | 98 cm |
| Cutting deck | 2 mm Steel |
| Mount type | suspended cutting deck |
| Blade protection | Yes |
| Blade clutch | Mecanic |
| Cutting height | from 50 to 120 mm |
| Measurement and weight | |
| --- | --- |
| Weight | 310 Kg |
| Height | 100 cm |
| Width | 107 cm |
| Length | 202 cm |
| Rollbar MASAK | Option |
| Engine | |
| --- | --- |
| Amount of cylinders | 2 |
| Capacity (cm³) | 726 cm³ |
| Engine power | 17,8 kW (24 HP) |
| Fuel tank capacity (L) | 14 L |
| Oil capacity (L) | 1.5 L |
| Cylinders/cooling | Air-cooled |
| Fuel | Unleaded fuel 95/98 |
| Starter | Electric 12 V - 3A with regulator |
| Engine type | Kawasaki FS691V |
| Battery | 12V - 30A |
| Wheel transmission | |
| --- | --- |
| Transmission type | Hydromechanic |
| Forward speed (km/h) | 10 km/h |
| Reverse speed (km/h) | 7 km/h |
| Oil capacity (L) | 1 L |
| Number of driving wheels | 4 |
| Turning radius | 1 |
| Vertical drop | 30% |
| Acoustic pressure | 85.9 dB(A) |
| Frame | Tubular mecanic welded |
| Direction | Mecanic |
| Tyres | FR: 3.5x8.0 / BE: 17x8.0 |
| Braking | Hydraulic and front braking wheels |
| Forward transmission | 4 driving wheels |
| GPS/GPRS | - |