Sorry, this product is not available in France.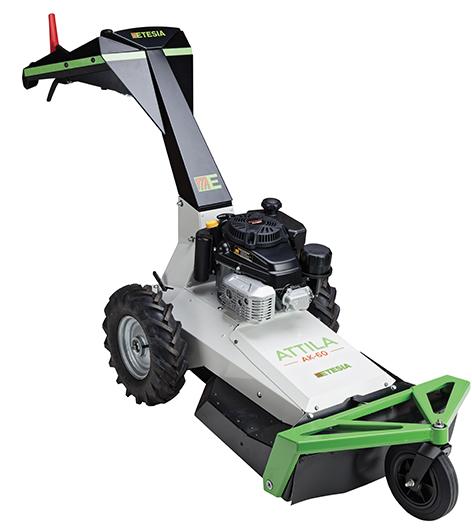 Brushcutters
! New !
The new Attila 75 pedestrian brush cutters are designed for work in the most difficult conditions. They are ideal for holiday homes, meadows, orchards, fallow land, roadsides and shores.

Find the nearest retailer
Characteristics
Performance
Comfort
Security
Protection for controls and hands with the guards incorporated into the handle with a three-position adjustment facility
Handle
Central handle that allows easier access to low controls (parking brake, forward transmission bypass, engine starter), with full protection for cables (no visible cable)
Manoeuvrability
Very high manoeuvrability thanks to the hydraulic transmission and the three forward speeds, one reverse speed and the differential effect.
Robustness
Access - Attila 60
Hydrostatic transmission - Attila 60
Engine - Attila 60
Access - Attila 60
The machine can be moved into the vertical position to gain access to the cutter blade for maintenance and cleaning.
Hydrostatic transmission - Attila 60
Maintenance-free hydrostatic transmission with forced-air cooling, integrated expansion vessel
Engine - Attila 60
Rugged and reliable engines: Engine crank shaft mounted on bearings, cast iron jacket for better
Specifications
| Measurements and weight | |
| --- | --- |
| Height (cm) | 114 |
| Width (cm) | 77 |
| Length (cm) | 210 |
| Weight (kg) | 129,5 full/125 empty |
| Engine | |
| --- | --- |
| Engine | Kawasaki FJ180V OHV |
| Power | 3,3 kW |
| Wheel transmission | |
| --- | --- |
| Working width | 60 |
| Working height | 3 positions |
| Differential lock | Yes |
| Forward transmission | Hydraulic |
| Speeds | FW : 0 to 5 km/h REV : 0 to 2 km/h |
| Theoretical efficiency | 3000 m²/h |