Sorry, this product is not available in France.
Buffalo 100 BPHPX 2
« J'ai choisi la Buffalo BPHPX2 car il me fallait un bennage en hauteur. […] La puissance et le couple du diesel permettent de faire un beau fauchage. […] De plus, en une journée de tonte, on ne consomme même pas la moitié du plein du réservoir (14 litres). La très bonne transmission de la puissance apporte une totale sérénité. […] Sans turbine, donc en faisant moins de bruit, la Buffalo dispose également d'une très bonne puissance d'aspiration. » Charles HERVET, paysagiste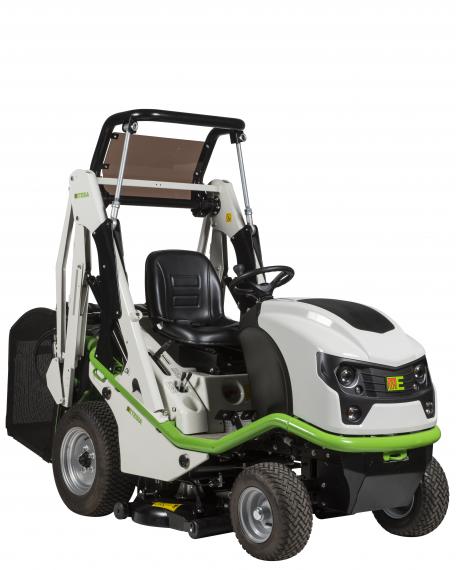 Buffalo: the new force!
Fitted with a 1 m overlapping cutting deck and a 20,5 HP three-cylinder Diesel engine, it has a higher hourly mowing output of up to 12 000 sq.m. per hour, and an unequalled weight-to-power ratio. Above all, it represents excellent value for money, both for the initial purchase and for use.
+ 4 wheels drive version (BPHPX2)
Find the nearest retailer
Characteristics
Performance
Comfort
Buffalo 100 advanced comfort
Specifications
| Mower | |
| --- | --- |
| Surface non tondue | 1.1 |
| Rendement théorique | 12000 |
| Nombre de lames | 2 |
| Largeur de coupe (GDC - non repris) | 100 |
| Carter coupe | Mastershock |
| Type montage | suspended cutting deck |
| Sens de rotation | opposed |
| Protection de lames | shear bolt |
| Type d'embrayage des lames | electromagnetic with integrated brake |
| Hauteur coupe | from 44 to 102 mm |
| Emptying systems | |
| --- | --- |
| Contenance du bac de vidange | 600 |
| Vidange bac | hydraulic from ground up to 1.80 m |
| Structure bac | tubular anti-uv treatment |
| Measurement and weight | |
| --- | --- |
| Poids | 708 |
| Hauteur | 200 |
| Largeur | 1050 |
| Longueur | 2920 |
| Motor | |
| --- | --- |
| Nombre de cylindres | 3 |
| Cylindrée | 760 |
| Puissance moteur | 20.5 |
| Contenance Essence | 14.5 |
| Contenance Huile | 3.05 |
| Refroidissement | cooling liquid |
| Carburant | super unleaded petrol |
| Démarreur | electric 12V |
| Type de moteur | Perkins |
| Batterie | 12V - 60A |
| Wheel transmission | |
| --- | --- |
| Type de transmission | 1 |
| Vitesse avant | 12 |
| Vitesse arrière | 12 |
| Nombre de roues motrices | 2 |
| Pression acoustique | 85 |
| Chassis | welded tubular chassis |
| Direction | hydraulic |
| Pneumatique | FRONT: 16x6.5x8 / BEHIND: 23x8.5x12 |
| Freinage | hydraulic |
| Transmission avancée | hydraulic |
| Various | |
| --- | --- |
| Homologation pour la route | 2 |