Sorry, this product is not available in France.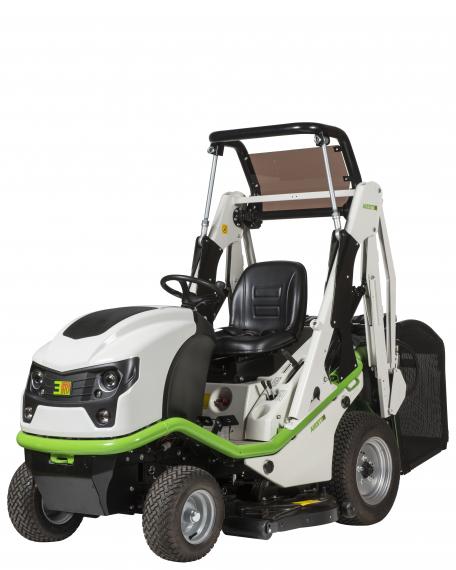 Buffalo 124 - The New Force
The new Buffalo124 is fitted with a 124-cm overlapping cutting deck and a 23-hp two-cylinder Vanguard engine. It has a higher hourly mowing output of up to 15 000 sq.m. per hour, and an unequalled weight-to-power ratio. Above all, it represents excellent value for money, both for the initial purchase and for use.
+ 4 wheels drive version (HVHPX)
Find the nearest retailer
Characteristics
Performance
Comfort
Buffalo 124 advanced comfort
Ergonomic controls Grouped next to the driver's seat, within easy reach, all the controls- for emptying the grass collector, engaging the blades, setting the grass cutting height, applying the differential lock- are particularly easy to use.
Ergonomic controls
They are all positioned logically and ergonomically, and are easy to operate.
Power steering
Power steering ensures precise steering, easy turning, and less fatigue for the operator.
Automatic gearbox
The hydrostatic transmission makes driving more comfortable, allowing you to make smooth progress. Press the forward or reverse pedal to choose the working speed in complete safety.
Robustness
Chassis
Reliability
Transmission
Cutter heads
Chassis
Chassis
The load bearing chassis of the Buffalo 124 is made up of two mechanically welded tubular sub-assemblies, bolted together. Entirely rust-proofed, the design of the chassis is directly inspired by manufacturing processes used in the automobile industry and is hardwearing even in conditions of intensive use.
Reliability
Outstanding reliability
Developed using the most powerful CAD tools, built and tested in Europe to rigorous manufacturing techniques, the Buffalo 124 ride-on mowers are designed to last. They only require the strict minimum in terms of maintenance and guarantee you hours of continuous use.
Transmission
Hydraulic transmission
The choice of hydraulics instead of mechanical solutions provides the user with transmission systems on the Buffalo 124 that last longer and have improved reliability.

Cutter heads
Cutter heads transmission
The transmission between the two blades is via a double-faced toothed belt. A V belt provides the power transmission between an electromagnetic clutch and the cutting deck.
Versatility
Snow equipment
The snow plough and snow chains enables the mower to be used for snow clearance.
Skipping
Emptying onto the ground or into a raised position? Whichever you prefer!
Green space maintenance
High grass mowing thanks the deflector.
Road homologation kit available

Specifications
| Mower | |
| --- | --- |
| Surface non tondue | 1.1 |
| Rendement théorique | 15 |
| Nombre de lames | 2 |
| Largeur de coupe (GDC - non repris) | 124 |
| Carter coupe | Mastershock |
| Type montage | suspension cutting deck |
| Sens de rotation | opposed |
| Protection de lames | shear bolt |
| Hauteur coupe | from 44 to 102 mm |
| Emptying systems | |
| --- | --- |
| Contenance du bac de vidange | 600 |
| Vidange bac | hydraulic |
| Structure bac | tubular anti-uv treatment |
| Measurement and weight | |
| --- | --- |
| Poids | 651 |
| Hauteur | 200 |
| Largeur | 128 |
| Longueur | 292 |
| Motor | |
| --- | --- |
| Nombre de cylindres | 2 |
| Cylindrée | 627 |
| Puissance moteur | 23 |
| Contenance Essence | 14.5 |
| Contenance Huile | 1.36 |
| Refroidissement | Air |
| Carburant | super unleaded petrol |
| Démarreur | electric 12 V |
| Type de moteur | Briggs & Stratton |
| Batterie | 12 V - 60 Ah |
| Wheel transmission | |
| --- | --- |
| Type de transmission | 1 |
| Vitesse avant | 12 |
| Vitesse arrière | 12 |
| Huile | 1.42 |
| Nombre de roues motrices | 4 |
| Rayon de braquage | 1 |
| Pression acoustique | 90 |
| Chassis | welded tubular chassis |
| Direction | hydraulic |
| Pneumatique | FRONT: 16x6.5x8 / BEHIND: 23x8.5x12 |
| Freinage | Hydraulic |
| Transmission avancée | hydraulic |
| Various | |
| --- | --- |
| Homologation pour la route | 2 |