Sorry, this product is not available in France.
Donky Battery Operated carrier
"We use the Donky for a lot of different tasks including carrying tonnes of top dressing across the football pitch for 'patching in'. It glides with ease even with all the weight and still has a lot of battery left to play with" Adam Witchell, Head Groundsman, Forest Green Rovers Football Club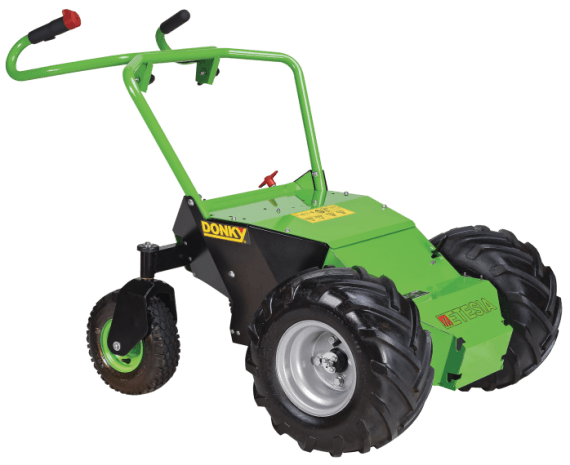 Electric range Donky Battery Operated carrier
With the new DONKY Battery Operated carrier, ETESIA makes site work a lot easier. No more relying on the strength of your arms alone for moving heavy loads. No more noise, polluting fumes and the need to buy fuel for motorised carriers.
To complete with boards MBER, tank MBBR or wooden tray MBPB
The price indicated does not include the battery.
Find the nearest retailer
Characteristics
Performance
Comfort
Comfortable
The carrier is compact and manoeuvrable. With its electric transmission, it does not require any effort from the user and thus reduces the risk of musculoskeletal disorders de TMS.
Two forward speed ranges and a reverse movement
Controlled by the thumb via a joystick. The Donky carrier has a dynamic brake (electronic deceleration management) and a parking brake. The bypass is manually controlled.
Robustness
Powerful
It's powerful 1700 W engine, electronic advance management and 2 driving wheels with an agricultural profile give it an impressive capacity to move in difficult terrain (soft soil, slopes etc.).
Accessories
Etesia développe une large gamme d'accessoires pour Donky Battery Operated carrier
Spare parts
Etesia dispose de certaines pièces détachés pour Donky Battery Operated carrier
Specifications
| Tray | |
| --- | --- |
| Max load of the tray | 250 Kg |
| Usable volume of the tray without side boards | 180 L |
| Usable volume of the tray with side boards | 400 L |
| Measurement and weight | |
| --- | --- |
| Weight | 170 kg |
| Height | 102 cm |
| Width | 90 cm |
| Length | 172 cm |
| Motor | |
| --- | --- |
| Power | 1700 Watts |
| Motor type | Electric |
| Battery | GEL (lead / acid) |
| Wheel transmission | |
| --- | --- |
| Transmission type | Electric |
| Forward speed (km/h) | 6 km/h |
| Reverse speed (km/h) | 3 km/h |
| Tyre | Front : 18 x 8,5 x 8 / Rear : 10 x 6,5 x 6 |
| Dynamic brake | Electronic control |
| GPS / GPRS | No |