Sorry, this product is not available in France.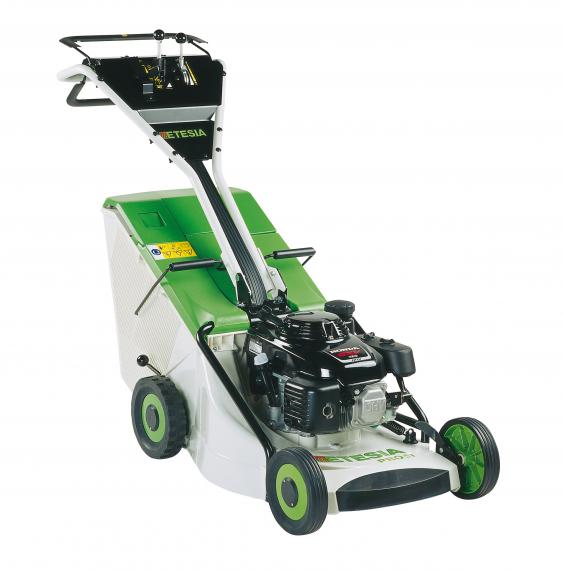 Lawnmowers Built for any grass condition
Lawnmowers Pro 51x was built for any type of construction. Discover it online and find the nearest retailer of the machine.
Find the nearest retailer
Characteristics
Performance
Collecting in every condition
Theoretical output up to 2240 m²/h. Possible use on sloping grounds until 20°. The internal aerodynamism of the cutting deck and the wide ejection channel  eliminate any risk of jams.
Drive
The drive is made on the back wheels to guarantee a perfect adhesion on slope, through a reducer greased for life. Back wheels with semi-agrarian profile.
Comfort
Filling indicator
The grassbox with a 72 liter volume drains away easily by shift and cleans  easily with water, it is equipped with a filling indicator STOP sign. Centralized cutting heights regulation from 33 to 88 mm.
Robustness
Cutting deck
Engine
Cutting heigth
Cutting deck
Cutting deck
PRO51 cutting deck is moulded in one cast aluminium part. Wheels with bearings. Aluminium front wheel rims. Cables are encased in a rubber sheath for protection against damage.
Specifications
| Mower | |
| --- | --- |
| Theoretical output | 2240 m²/h |
| Number of blades | 1 |
| Cutting width | 51 cm |
| Cutting deck | Casted aluminium |
| Rotation direction | Clockwise |
| Blade clutch | Electromagnetical blade clutch |
| Cutting heigth | From 33 to 88 mm |
| Emptying systems | |
| --- | --- |
| Grassbox capacity (L) | 72 L |
| Grassbox emptying | Manual |
| Grassbox structure | Strengthened polypropylen |
| Measurement and weight | |
| --- | --- |
| Weight (kg) | 60 Kg |
| Height (cm) | 110 cm |
| Width (cm) | 55 cm |
| Length (cm) | 145 cm |
| Engine | |
| --- | --- |
| Amount of cylinders | 1 |
| Capacity (cm³) | 163 cm³ |
| Nominal engine power | 4 kW / 5.5 HP |
| Fuel tank capacity (L) | 1.8 L |
| Cooling system | Air-cooled |
| Fuel | Gas |
| Starter | Automatic recal |
| Engine type | Honda GXV160 H |
| Wheel transmission | |
| --- | --- |
| Transmission type | Mechanic |
| Forward speed (km/h) | from 3,2 to 4,4 Km/h |
| Number of driving wheels | 2 |
| Acoustic pressure | 85 d(B)A |
| Forward transmission | Variable speed transmission |
| GPS / GPRS | - |