Sorry, this product is not available in France.
Bahia 2 MKHE 3
User's speech:"The MKHE is probably the best machine we've purchased. It cut mowing down compared to push mowers and speeded up what our teams can do, allowing them to do other jobs". We like the fact that we have one machine that can do different jobs." David Ramsden, Contract Supervisor Places for People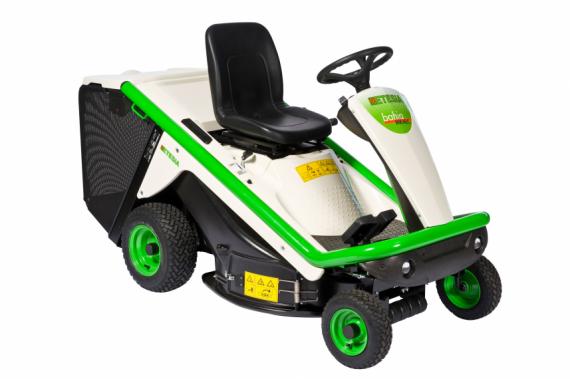 Ride-on mowers New Bahia easy mowing
Compact, tenacious, flexible and multi-tasking, bahia adapts to every terrain, every grass-cutting situation and every task.
+ Kawasaki  9,3 kW/12,5HP twin cylinder engine

Find the nearest retailer
Characteristics
Performance
Comfort
Ideal driving position, high-comfort seat, controls on dashboard, silence and safety - with Bahia, discover a whole new world of well-being.
Ideal working conditions
From the driver's adjustable, ergonomic seat, you have a perfect view of your working environment. All the controls are easy reach: cutting height, forward/reverse pedals, parking brake.
Safety first
Noise level under 100 dB(A). Petrol tank with overflow catcher. Built-in blade brake. Several safety switches. Complies with machine directive 2006/CE.
Easy life
Buzzer sounds when grass collector is full. A hose pipe makes cleaning the cutting system quick and easy. Tool-free access to motor. Easy maintenance thanks to access to mechanical parts. Built-in strapping hooks for safe transport.
Robustness
Top-quality materials, reliable technology, a large range of high-performance engines and a 3-year guarantee for parts and labour for home use. With bahia, you are definitely going for the long-term option.
Solid as a rock
Efficient
Kawasaki engine
Solid as a rock
Mechanically welded load-bearing chassis, diameter 60 mm, epoxy finish with built-in strapping hooks. Suspension cutting deck with constant trim and inspection door. Step, steering column cover and dashboard cover in EPP (expanded polypropylene): with its hardwearing, anti-skid properties, EPP is recyclable and has a low environmental impact.
Efficient
Engine power over 90% centred on drive and blade transmission. Maintenance-free hydrostatic drive transmission. Blade transmission via direct belt and constant tension.
Kawasaki engine
Engine fittings with valves Kawasaki FS481 2 air-cooled V cylinders - 12.5 HP (9.3 kW).
Specifications
| Mower | |
| --- | --- |
| Theoretical output (m²/h) | 7200 m²/h |
| Number of blades | 1 |
| Cutting width (cm) | 80 cm |
| Mowing deck | Steel |
| Mount type | suspension cutting deck |
| Rotation direction | Right |
| Blade protection | 2 cutting screws |
| Type of blade clutch | electromagnetic with brake integrated |
| Cutting height (mm) | from 44 to 102 mm |
| Emptying systems | |
| --- | --- |
| Grassbox capacity (L) | 240 L |
| Grassbox emptying | Manual |
| Grassbox structure | tubular structure - anti-UV handled web |
| Measurement and weight | |
| --- | --- |
| Weight | 230 Kg |
| Height | 121 cm |
| Width | 82.5 cm |
| Lenght | 197.5 cm |
| Motor | |
| --- | --- |
| Number of cylinders | 2 |
| Cylinder capacity | 603 cm³ |
| Nominal engine power | 9.3 kW/12.5 HP |
| Maximum engine power | 11.9 kW/16 HP |
| Fuel tank capacity (L) | 12 L |
| Oil tank capacity (L) | 1.5 L |
| Cooling | 2 cylinder, air cooled |
| Fuel | unleaded fuel 95/98 |
| Starter | Electric 12V 13 A with regulator |
| Starter | Electric 12V |
| Motortype | Kawasaki FS481V |
| Battery | 12V - 20Ah |
| Wheel transmission | |
| --- | --- |
| Transmission type | Hydrostatic |
| Forward speed (km/h) | 9 km/h |
| Backward speed (km/h) | 8 km/h |
| Oil | 1.5 L |
| Number of driving wheels | 2 |
| Vertical drop | 17% |
| Acoustic pressure | 86 dB(A) |
| Pneumatic | FRONT: 10x6.5-6 / BEHIND: 16x6.5-8 |
| Braking | hydrolic |
| Forward transmission | hydrostatic |
| GPS/GPRS | - |