Sorry, this product is not available in France.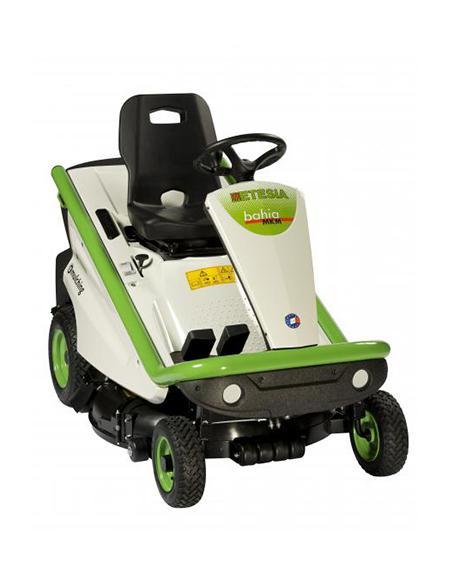 Ride-on mowers New Bahia MKM, the next generation mulching mower
MKM Bahia is equipped with a BIOcut 85 cutting deck and offers a very high mulching performance. The MKM inherits the robustness, reliability, comfort, excellent ergonomics and exceptional compactness of the bahia family of mowers.

Free shipping. Delivery to your nearest dealer.
Find the nearest retailer
Characteristics
Performance
Compact, tenacious, flexible and multi-tasking, Bahia MKM adapts to every terrain.
Comfort
Ideal driving position, high-comfort seat, controls on dashboard, silence and safety - with Bahia, discover a whole new world of well-being.
Specifications
3 years guarantee for parts and labour for domestic use.
| Mower | |
| --- | --- |
| Theoretical output (m²/h) | 7650 m²/h |
| Number of blades | 1 |
| Cutting width (cm) | 85 cm |
| Mowing deck | Mastershock |
| Mount type | Suspension cutting deck |
| Type of blade clutch | Electromagnetic with integrated brake |
| Cutting height (cm) | From 44 to 102 mm |
| Measurement and weight | |
| --- | --- |
| Weight | 230 Kg |
| Height | 122 cm |
| Width | 90 cm |
| Lenght | 173 cm |
| Engine | |
| --- | --- |
| Amount of cylinders | 2 |
| Cylinder capacity | 603 cm³ |
| Nominal engine power | 9,4 kW / 12,5 HP |
| Maximum engine power | 11,9 kW / 16 HP |
| Fuel tank capacity (L) | 12 L |
| Oil tank capacity (L) | 1.5 L |
| Cooling system | Air-cooled |
| Fuel | Gasoline |
| Ignition | electric |
| Starter | 12 V electric |
| Engine type | Kawasaki FS481V |
| Battery | 12V - 20 Ah |
| Wheel transmission | |
| --- | --- |
| Transmission type | Hydrostatic |
| Forward speed (km/h) | 9 km/h |
| Backward speed (km/h) | 9 km/h |
| Oil | 1.5 L |
| Number of driving wheels | 2 |
| Turning radius | 1 |
| Vertical drop | 17% |
| Acoustic pressure | 86 dB(A) |
| Pneumatic | FRONT: 10x6.5-6 / BEHIND: 16x6.5-8 |
| Forward transmission | Hydrostatic |