Sorry, this product is not available in France.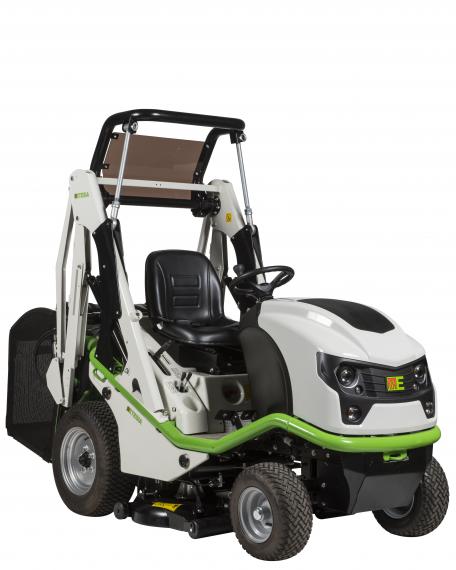 Ride-on mowers Buffalo: the new force!
Fitted with a 100 cm cutting deck and a 23,5 hp two-cylinder Vanguard engine, it has a higher hourly mowing output of up to 12 000 sq.m. per hour, and an unequalled weight-to-power ratio. Above all, it represents excellent value for money, both for the initial purchase and for use.
+ 4 wheels drive version
Find the nearest retailer
Characteristics
Performance
Comfort
Buffalo 100 advanced comfort
Specifications
| Mower | |
| --- | --- |
| Non mowed area | 1.1 m² |
| Theoretical output (m²/h) | 12000 m²/h |
| Number of blades | 2 |
| Cutting width (cm) | 100 cm |
| Mowing deck | Casted aluminium |
| Mount type | suspended cutting deck |
| Rotation direction | opposed |
| Type of blade clutch | electromagnetic with integrated brake |
| Cutting height (cm) | from 44 to 102 mm |
| Emptying systems | |
| --- | --- |
| Grassbox capacity (L) | 600L |
| Grassbox emptying | hydraulic from ground up to 1.80m |
| Grassbox structure | tubular anti-uv treatment |
| Measurement and weight | |
| --- | --- |
| Weight | 630 Kg |
| Height | 200 cm |
| Width | 105 cm |
| Lenght | 292 cm |
| Motor | |
| --- | --- |
| Amount of cylinders | 2 |
| Cylinder capacity | 627 cm³ |
| Nominal engine power | 14 kW / 19 HP |
| Maximum engine power | 17 kW / 23 HP |
| Fuel tank capacity (L) | 14.5 L |
| Oil tank capacity (L) | 1.36 L |
| Cooling | Air-cooled |
| Fuel | super unleaded petrol |
| Starter | electric 12 V |
| Engine | Briggs & Stratton OHV Vanguard |
| Battery | 12V - 60 A |
| Wheel transmission | |
| --- | --- |
| Transmission type | Hydraulic |
| Forward speed (km/h) | 12 |
| Backward speed (km/h) | 12 |
| Number of driving wheels | 4 |
| Acoustic pressure | 85 dB(A) |
| Frame | welded tubular chassis |
| Direction | hydraulic |
| Pneumatic | FRONT: 16x6.5x8 / BEHIND: 23x8.5x12 |
| Braking | hydraulic |
| Forward transmission | hydraulic |
| Various | |
| --- | --- |
| Road homologation | Available |