Sorry, this product is not available in France.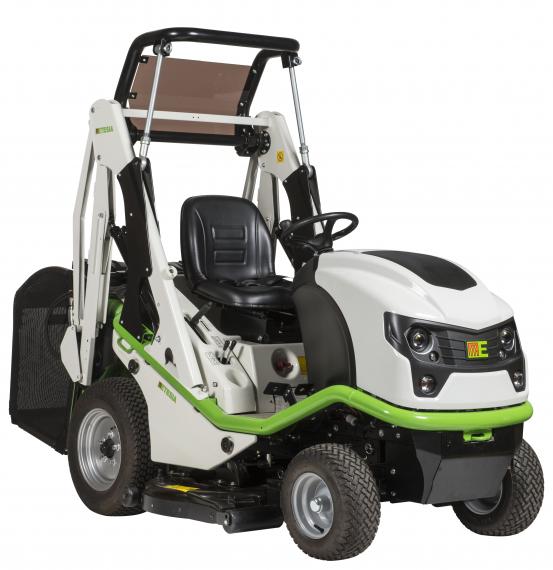 Ride-on mowers
With their 1.24m overhanging cutting decks and 23 HP Vanguard two-cylinder engines, the new Buffalo 124 mowers boast a theoretical efficiency of 15,000 m²/h, an unparalleled weight to power ratio and above all excellent value, both in terms of money and performance.
Four wheel drive version.
Available in a two wheel drive version.
Find the nearest retailer
Characteristics
Performance
Comfort
Robustness
Chassis
Reliability
Forward transmission
Cutter heads
Start/Stop cutters
See more robustness
Blade protection
Mowing deck
600 Liter Grassbox
Blade protection
To avoid any major damage, blades rose with two cutting bolts in case of violent shock.
600 Liter Grassbox
Made from rot-roof fabric on a reinforced tubular frame, the grassbox has a capacity of 600 litres and guarantees the user long life and reliable operation.
Specifications
| Mowing system | |
| --- | --- |
| Non mowed area | 1,1 m² |
| Theoretical output (m²/h) | 15000m²/h |
| Number of blades | 2 |
| Cutting width (cm) | 124cm |
| Mowing deck | Double opposed volutes |
| Mount type | Hanging deck |
| Rotation direction | Opposed |
| Blade protection | Shearing screws |
| Blade clutch | Electromagnetic |
| Cutting height (in mm) | 44 to 102 mm |
| Grassbox | |
| --- | --- |
| Grassbox capacity (L) | 600L |
| Grassbox emptying | Hydraulic up to 1.80m |
| Grassbox structure | Tubular |
| Dimension and weight | |
| --- | --- |
| Weight | 648 kg |
| Height | 200 cm |
| Width | 128 cm |
| Lenght | 292 cm |
| Engine | |
| --- | --- |
| Number of cylinders | 2 |
| Cylinder capacity | 627 cm³ |
| Engine capacity | 23 HP |
| Fuel tank capacity (L) | 14 L |
| Oil tank capacity (L) | 1.36 L |
| Cooling | Air |
| Fuel | Gasoline |
| Starter | 12 V – 60 A |
| Starter | 12V |
| Motortype | 4 Time engine |
| Battery | 12V - 60A |
| Wheel transmission | |
| --- | --- |
| Transmission type | Hydraulic |
| Forward speed (km/h) | 12 km/h |
| Backward speed (km/h) | 12 km/h |
| Oil | 1.42 |
| Number of driving wheels | 4 |
| Turning radius | 1 |
| Acoustic pressure | 90 dB(A) |
| Frame | Mecanic welded tubular frame |
| Direction | Hydraulic |
| Pneumatic | Front: 16x6,5 -8/ Pression: 1.2 bar - Back: 23x8.5x12 / Pression : 0.8 bar |
| Forward transmission | Hydraulic |
| GPS/GPRS | No |
| | |