Sorry, this product is not available in France.
HYDRO 100 MK124
The MK124 is the right mower for large areas. Its 124 cm cutting width and large grassbox ensure a high output.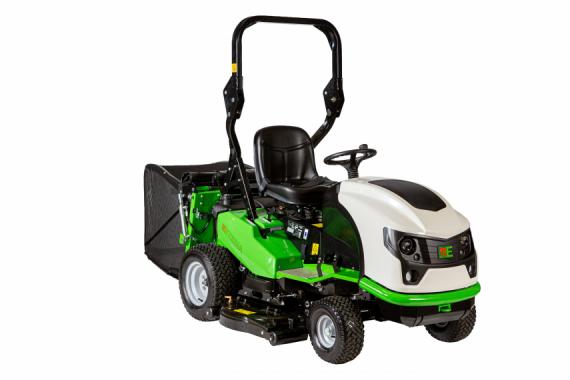 Ride-on mowers HYDRO 100 MK124
MK124 is the perfect mower for very large areas.
Its 124 cm cutting width, the widest of any ETESIA ride-on mower, significantly reduces the time spent maintaining green areas.
Equipped with a powerful new Kawasaki engine, a hydraulically operated 500 litre capacity grassbox that empties in seconds and effortlessly.
The ROPS secures the mower in the event of an overturn, and it is foldable for transport.
Find the nearest retailer
Characteristics
Performance
Comfort
Robustness
Tool-free engine access
Mastershock cutting deck
Robust chassis
Tool-free engine access
Maintenance is easy: you have quick access to the internal parts. This makes it much easier to maintain the machine, which increases its service life.
Mastershock cutting deck
The cutting deck has been designed to be durable and impact resistant. The mastershock deck is lightweight, corrosion resistant and easier to clean as grass does not stick to it.
The blades are positioned at 90°, so they ensure an even cut.
Robust chassis
The MK124's chassis is fully corrosion-resistant, so it can withstand the rigours of heavy use.
Specifications
| Mower | |
| --- | --- |
| Theoritical output | 20 000 m²/day (2 hectors, 5 acres) |
| Cutting height | from 39 to 97 mm (1.5 in to 3.8 in) |
| Mowing deck | Double opposed volutes, Injected in Mastershock |
| Blade Protection | Shear Bolt |
| Usage | Grass Collection, rear discharge. Options : Mulching, spreading, snow removal. |
| Grassbox | |
| --- | --- |
| Grassbox capacity | 500 L |
| Grassbox emptying | Hydraulic |
| Grassbox structure | Tubular, in anti-uv polyamide fabric |
| Wheel transmission | |
| --- | --- |
| Transmission type | Hydrostatic with differential lock |
| Forward speed | 12 km/h (7.45 mph) |
| Backward speed | 10 km/h (6.2 mph) |
| Engine | |
| --- | --- |
| Motortype | Kawasaki FS541V 4 strokes |
| Nominal engine power | 10,8 kW at 2 900 min-1 |
| Cylinder capacity | 603 cm³ |
| Number of cylinder | 2, V shaped at 90° |
| Cooling | Air |
| Fuel tank capacity | 14 L |
| Fuel | Gasoline |
| Starter | electric |
| Acoustic pressure | 86.7 dB (A) |
| Dimension and weight | |
| --- | --- |
| Weight | 475 kg (1 047 lb) |
| Lenght | 291 cm (114.5 in) |
| Width | 128,8 cm (50.7 in) |
| Height (with open ROPS) | 193,6 cm (76.2 in) |
| Height (with folded ROPS) | 146,5 cm (57.6 in) |