Sorry, this product is not available in France.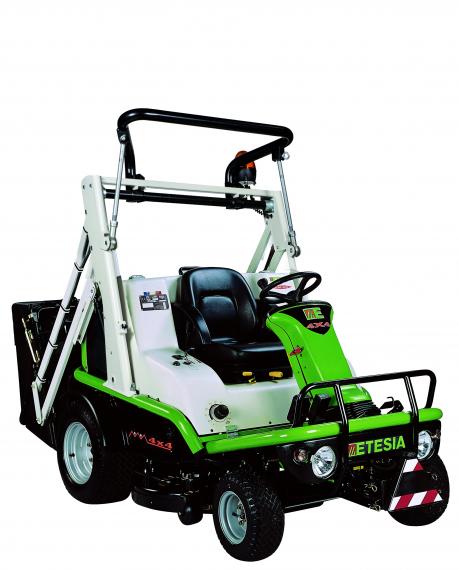 Ride-on mowers A World Apart
The Hydro 124DX from ETESIA is the first mower that combines direct rear-ejection, intregrated collection and high-lift emptying (patented). All features that make it one of the most highly efficient machines on the market, designed to mow up to 19,000 square meters per hour, with 4-wheel drive transmission.
 
With a 4x4 transmission, the Hydro 124DX ride-on mower gains:
Security
• Improved stability on slopes with front drive wheels
• Manoeuvrability on slopes is safer allow better ground maintenance
• Improved traction for reversing up slopes
Efficiency
• progress without skidding
• Increased traction in all conditions
• reduced damage to the working surface
Available with 2 driving wheels
Find the nearest retailer
Characteristics
Performance
Comfort
Versatility
Accessories to stay ahead
Specifications
Road homologation kit available.
| Mower | |
| --- | --- |
| Theoretical output (m²/h) | 19840 m²/h |
| Number of blades | 2 |
| Cutting width (cm) | 124 cm |
| Cutting deck | Opposed double volutes. Foldaway outside parts |
| Mount type | suspended cutting deck |
| Rotation direction | Opposed |
| Blade protection | by cutting screw |
| Type of blade clutch | Electromagnetic with brake integrated |
| Cutting height (mm) | From 44 to 140 mm |
| Emptying systems | |
| --- | --- |
| Grassbox capacity (L) | 600 |
| Grassbox emptying | Hydraulic up to 1,80 m |
| Grassbox structure | tubular structure - anti-UV handled web |
| Measurement and weight | |
| --- | --- |
| Weight | 895 Kg |
| Height | 204 cm |
| Width | 128 cm |
| Lenght | 280 cm |
| Motor | |
| --- | --- |
| Number of cylinders | 3 |
| Cylinder capacity | 1028 cm³ |
| Nominal engine power | 17 kW / 23 HP |
| Maximum engine power | 18 kW / 25 HP |
| Fuel tank capacity (L) | 19 L |
| Oil tank capacity (L) | 2 L |
| Cooling | Air-cooled |
| Fuel | Diesel |
| Ignition | 12 V - 30 A with regulator |
| Starter | Electric 12 V |
| Engine type | Lombardini 1003 FOCS |
| Wheel transmission | |
| --- | --- |
| Transmission type | Hydraulic |
| Forward speed (km/h) | 16 km/h |
| Backward speed (km/h) | 14 km/h |
| Oil | 33 L |
| Number of driving wheels | 4 |
| Turning radius | 1 |
| Vertical drop | 30 % |
| Power take-off | Yes |
| Acoustic pressure | 90 dB(A) |
| Frame | Mecanic-welded tubular |
| Forward transmission | Hydraulic |
| Pneumatic | FRONT: 16x6.50-8 / BACK: 23x10.5-12 |
| Braking | Hydraulic brake |
| Forward transmission | 4 driving wheels without differential lock |
| Various | |
| --- | --- |
| Road homologation | Available |