Sorry, this product is not available in France.
HYDRO 80 MKHPF
Combining the comfort of the Hydro 80 with the power of the SKD mower, the MKHPF is the ideal crossover for tall, greasy grass.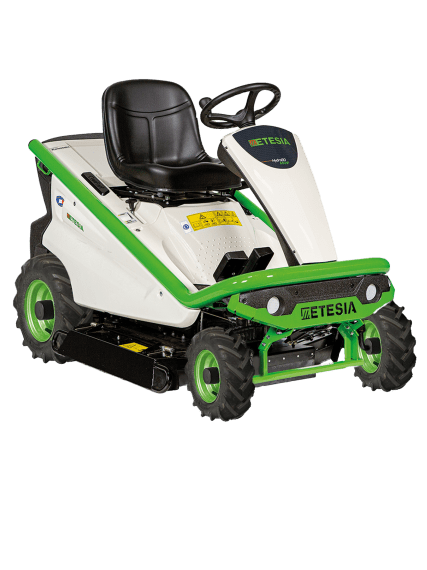 Ride-on mowers HYDRO 80 MKHPF
The new MKHPF ride-on mower combines the working comfort of a Hydro 80 with the mowing power of the ATTILA SKD.
The MKHPF can mow in any weather. An ideal model for users with high mowing demands. 5 cutting heights from 50 to 92 mm for perfect mowing on high and wet grass.

Find the nearest retailer
Characteristics
Performance
Compact, flexible and efficient, the MKHPF is suitable for mowing any terrain.
Comfort
Very short turning radius
The short turning radius provides ideal manoeuvrability and allows perfect turning around trees or other obstacles.
Accessible controls
You can engage the handbrake and adjust the cutting height without having to bend down, thanks to the easy-to-reach levers.
Hydrostatic transmission
The transmission guarantees smooth progress and increases user comfort
Robustness
Robust chassis
Tool-free engine access
mastershock mowingdeck
Robust chassis
The chassis of the MKHPF has already proven itself in the Hydro 80 models. The bumper has been reinforced and adapted for mowing so that the MKHPF can pass through even the tallest grass.
Tool-free engine access
Maintenance is easy: you have quick access to the internal parts. This makes it much easier to maintain the machine, which increases its longevity.
mastershock mowingdeck
The mastershock deck is lightweight and corrosion resistant. It is easier to clean because grass does not stick to it.
It is impact resistant and durable.
Steel reinforcements on both sides allow for a side opening for easy cleaning of the interior of the housing and for sharpening the blades.
Versatility
Cutting height adjustment
The 5 cutting heights from 50 to 92 mm allow mowing in all conditions (high grass, wet grass...)
Small size
Its small size (1.73 x 0.9 m) allows it to pass through narrow alleys or heavily wooded plots.
Numerous accessories
The MKHPF offers the possibility to add many accessories. You can spread, scarify and clear snow with your mower.
Specifications
| Mower | |
| --- | --- |
| Number of blades | 1 blade with swing tip ends |
| Theoritical output | 10 000 m²/day (2.7 acres) |
| Cutting width | 85 cm (33,5 inches) |
| Cutting height | Centralized adjustment 6 positions: from 50 to 92 mm (1,9 in to 3.6 in) |
| Mowing deck | Injected in Mastershock |
| Usage | Mowing |
| Engine | |
| --- | --- |
| Motortype | Kawasaki FS541V 4 Strokes |
| Nominal engine power | 9,4 kW at 3.000 min-1 |
| Cylinder capacity | 603 cm³ |
| Number of cylinder | 2 |
| Fuel tank capacity | 12 L |
| Fuel | Gasoline |
| Starter | electric |
| Acoustic pressure | 86 dB(A) |
| Dimension and weight | |
| --- | --- |
| Weight | 220 kg (485 lb) |
| Lenght | 173 cm (68,11 in) |
| Width | 90 cm (35,43 in) |
| Height | 122 cm (48 in) |
| Wheel transmission | |
| --- | --- |
| Transmission type | Hydrostatic with differential lock |
| Forward speed | 9 km/h (5.59 mph) |
| Backward speed | 8 km/h (4.97 mph) |