Sorry, this product is not available in France.
Hydro 80 MKHP5
User's speech:"The Hydro 80 is perfect – it isn't too big, it can fit through small gates, it is quick and it can collect just as well as any pedestrian mower – better in some cases. Quite simply, it out performs everything else that we had which included machines from some very well-known brands." Matthew Tromens, Director of Creative Gardening Solutions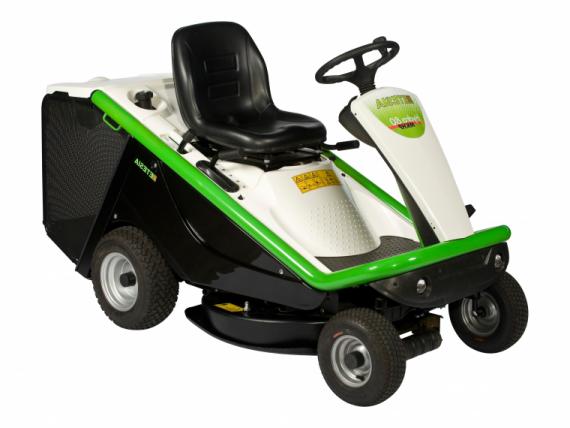 Ride-on mowers Hydro 80
The Hydro 80 cuts and collects both long and short grass, without clogging. Add to that its compact dimensions, ease of use, differential lock and powerful 9.3 kW twin-cylinder Kawasaki engine, and you have a highly efficient machine offering the kind of output that would easily replace three walk-behind mowers.

Find the nearest retailer
Characteristics
Performance
Comfort
In a class of its own. Comfortable and ergonomic.
Robustness
Built for long-life. Solid and reliable.
Tubular frame
Steering
Blade clutch
kAWASAKI ENGINE
Steering
Reinforced steering integrated into the new front axe, plus large sized front wheels ensure smooth manoeuvrability.
Blade clutch
Direct belt transmission. The electromagnetic blade clutch is controlled by self adjustable belt with constant tension.
kAWASAKI ENGINE
Fitted with the latest 9.3 kW Kawasaki twin cylinder engine, selected for its powerful performance and reliability.
Accessories
Etesia développe une large gamme d'accessoires pour Hydro 80 MKHP5
Spare parts
Etesia dispose de certaines pièces détachés pour Hydro 80 MKHP5
Specifications
Its tight turning circle makes it ideal for small or awkward areas.
| Mower | |
| --- | --- |
| Theoretical output (m²/h) | 7200 |
| Number of blades | 1 |
| Cutting width (cm) | 80 cm |
| Mowing deck | Steel deck |
| Mount type | Suspended and removable deck |
| Rotation direction | Hourly |
| Blade protection | By shear bolt |
| Type of blade clutch | Electromagnetic with built-in brake |
| Cutting height (mm) | from 44 to 102 mm |
| Emptying systems | |
| --- | --- |
| Grassbox capacity (L) | 240 L |
| Grassbox emptying | Ground assisted emptying |
| Grassbox structure | Tubular structure - anti UV |
| Measurement and weight | |
| --- | --- |
| Weight | 240 Kg |
| Height | 130 cm |
| Width | 82.5 cm |
| Lenght | 199.5 cm |
| Motor | |
| --- | --- |
| Number of cylinders | 2 |
| Cylinder capacity | 603 cm³ |
| Nominal engine power | 9.3 kW/12.5 HP |
| Maximum engine power | 11.9 kW/16 HP |
| Fuel tank capacity (L) | 12 L |
| Oil tank capacity (L) | 1 L |
| Cooling | 2 cylinder, air cooled |
| Fuel | unleaded fuel 95/98 |
| Power | Electronic with transitor |
| Starter | 12 volts 20 Amp. with regulator |
| Engine type | Kawasaki FS481V |
| Battery | 12V - 20 Ah |
| Wheel transmission | |
| --- | --- |
| Transmission type | Differential lock |
| Forward speed (km/h) | 9 km/h |
| Backward speed (km/h) | 8 km/h |
| Oil | 2 L |
| Number of driving wheels | 2 |
| Vertical drop | 18% |
| Acoustic pressure | 86 dB(A) |
| Frame | Multi-tubular mechanical welded frame |
| Direction | Mechanical |
| Pneumatic | Front: 13x5.0-6 - Back: 16x6.5-8 |
| Braking | Incorporated in hydrostatic transmission |
| GPS/GPRS | - |