Landscapers
The landscape designers have specific needs concerning the material of maintenance of the green areas, those gather in 3 principal categories :
The versatility of the material to be able to maintain several types of ground with only one machine.
Reliability and the robustness for a long-term investment.
Energy saving and environmental protection.
The versatility of the material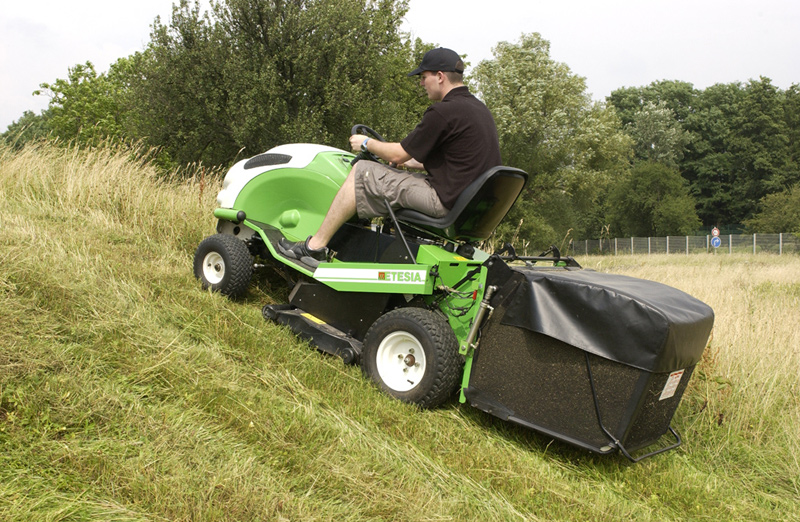 The versatility of a mower initially depends on its capacity to mow a great diversity of surfaces and then of its range of accessories which must enable him to answer the whole of the needs for maintenance of the green areas.
To manage the diversity of surfaces to be mowed
In your trade, you are confronted with all kinds of surfaces (small, average, large). To succeed in treating them with only one type of machine, it is necessary that this one is compact and powerful. It is what we develop on various mowers of our range. For example, the Hydro 100 Diesel profits at the same time from an exceptional compactness (105 cm total width for 100 cm cutting width) and an output equivalent to machines of 1,20 m. This enables to mow small, average and large surfaces. Without overflow of any kind, it acts end of the fingers, is with ease on all the grounds and is transported easily. Moreover, its noise level exceptionally low of 100dB (3 times les than the machines of more than 1,20 m - 105 Db, European standard) will enable you  to treat in all peace the most sensitive building sites (hospital, old people's homes, residential districts,...).
Covering all green space maintenance needs
A survey carried out in 2009 of the green space managers of 300 municipalities with a population of above 5000 showed that 31% intended to contract out more of their activities. Similarly,  differentiated management - which makes it possible to handle the increase in green areas requiring maintenance at a time when resources are limited - is gaining priority (57%) for the municipalities in the survey.
To help you effectively address the future developments and requirements of your local authory customers, ETESIA offers a large range of ride-on mowers that allow differentiated management.
As an example, let us take the Diesel Hydro 124DX, with 124 cm mowing width and a four-wheel drive . Of course, it mows and collects grass to perfection. But it does even more. It can mow and collect long and wet grass, on sloping terrain. Many accessories suitable for differentiated management are also available : scarifier (for scarifying and collection in a single pass), blower (for leaves),  mulching deck, spreader, sprayer and mowing deflector.Yet other accessories help keep it active throughout the year (sweeper, cab, snow plough).
Reliability and Robustness
 Brand ETESIA has been famous for 20 years for the reliability and the robustness of its machines. Let us take for example the Hydro 100E. This ride-on mower with a 100 cm deck has been commercialized in 1990. Since its development, the machine was regularly improved for even more comfort and performance. Many machines are still used by professionals since nearly 20 years!
Moreover, the ETESIA ride-on mower requires a maintenance reduced to the minimum and Warranty intensive work hours.
Environmental Protection and Energy saving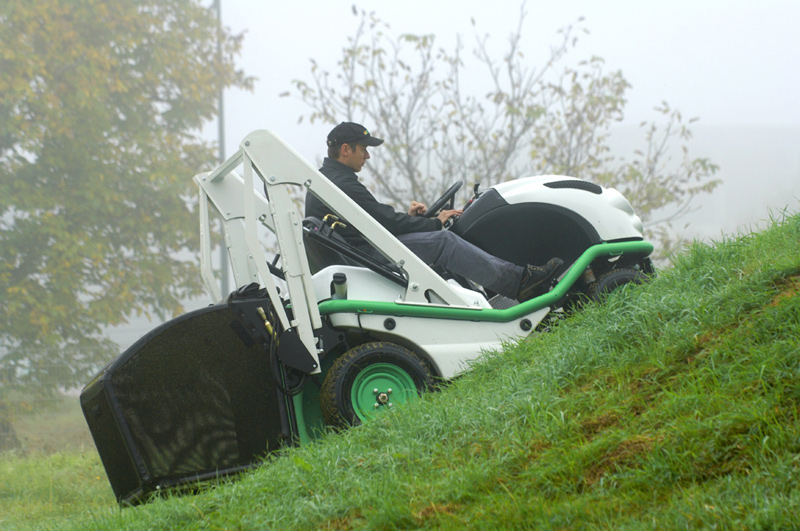 The study, realized thanks to the assistance of French local government agencies, states that 91% of the communes are concerned by the integration of sustainable development in their policy: biodiversity, protection of water, reduction of noise, lower CO2 emissions,… 35% of the persons in charge judge that the clean engine emitting least possible of CO2 is an important criterion. The battle against wasting and pollution is launched. It is within this framework there that ETESIA launched in partnership with TOTALGAZ and the first LPG ride-on mower in Europe: Hydro 80 MKHPG .
This new mower profits from: a trebled autonomy compared to the petrol version (12 hours instead of 4 hours), a reduction of 25% of the hydrocarbon emissions (-21% of CO2) and of the using costs of 40%. The Hydro 80 LPG will not only enable you to respect the new requirements of environmental protection, but also to reduce significantly your costs.